Pre-Shipment Inspection: Ensuring Quality and Compliance
Ensure compliant, defect-free products with our pre-shipment inspection services. Trust our highly qualified inspectors to ensure quality and compliance before your goods leave the factory.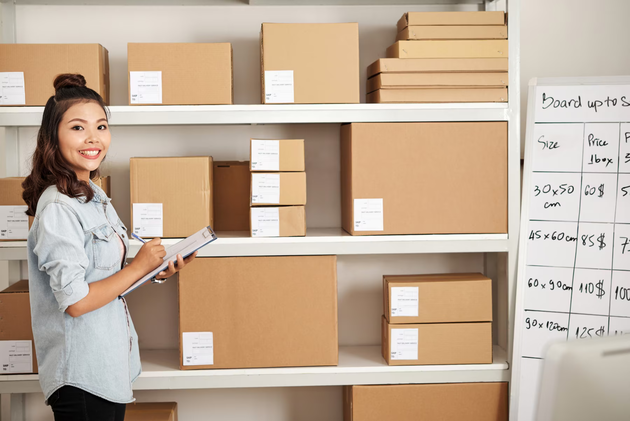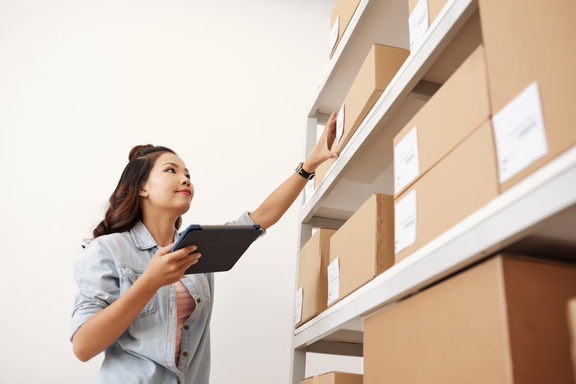 What is Pre-Shipment Inspection and Why is it Important?
Pre–shipment inspection, also known as Final Inspection, is a vital quality control process conducted by third-party inspection companies on behalf of buyers, importers, or manufacturers. A pre-shipment inspection aims to ensure that the products being shipped comply with the agreed-upon specifications, quality standards, and regulatory requirements. By thoroughly examining goods before they leave the manufacturer's premises, PSI helps mitigate the risk of receiving defective or non-compliant products. 
Here is the importance of pre-shipment inspection and how it safeguards the interests of both buyers and sellers.
Ensuring Product Quality and Compliance
A key advantage of PSI is that it verifies that the products being shipped adhere to the desired quality standards and conform to any legal or regulatory requirements in the destination country. By carrying out a meticulous assessment, inspection agencies can identify and rectify any discrepancies or defects before the shipment leaves the factory, preventing costly returns or rejections at customs.
Reducing Risks for Buyers and Sellers
By conducting a pre-shipment inspection, both buyers and sellers can reduce the potential risks associated with international trade. For the buyer, it helps to minimize the likelihood of receiving substandard products, while for the seller, it reduces the chances of disputes or damage to their reputation. By confirming that the products meet the agreed-upon specifications, PSI fosters trust and confidence between trading partners, ultimately contributing to a smoother and more successful transaction.
Facilitating Timely Deliveries
An effective PSI can help ensure that products are shipped on schedule, avoiding any unforeseen delays caused by non-compliant goods. By identifying and addressing any issues before shipment, the inspection process aids in maintaining the agreed-upon delivery timeline. This, in turn, helps maintain a positive relationship between the buyer and seller and upholds the buyer's commitments to their customers.
Supporting Ethical and Sustainable Practices
A comprehensive pre-shipment inspection can also promote ethical and sustainable practices in the supply chain. By examining labor conditions, environmental compliance, and social responsibility, PSI encourages businesses to adhere to internationally recognized standards and regulations. It supports the long-term viability of the supply chain and bolsters the reputation of both buyers and sellers as responsible and ethical trading partners.
Benefits of Pre-Shipment Inspection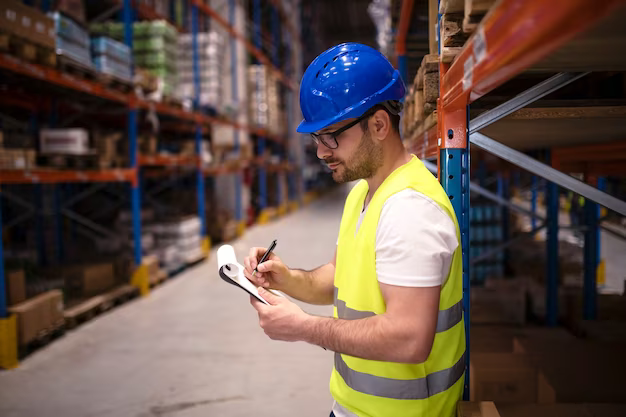 Pre-shipment inspection (PSI) is a key step in the supply chain process that ensures the quality and quantity of goods before they leave the supplier's premises. It's a valuable tool that provides numerous benefits for businesses looking to streamline their supply chain operations and mitigate risks.
One of the primary advantages of PSI is that it helps businesses ensure that the goods meet the buyer's requirements and specifications. This reduces the risk of costly product rejections and returns, improving customer satisfaction and significant cost savings.
Moreover, PSI helps identify any issues or defects in the products before shipment, enabling prompt corrective action and preventing potential problems that could impact the timely delivery of goods. This is crucial in ensuring that the supply chain remains efficient and optimized.
In addition to the benefits mentioned above, PSI also provides an extra layer of protection against fraud and counterfeit goods, particularly in industries where product safety and quality are crucial. This is because pre-shipment inspections verify the authenticity and quality of the goods, which helps businesses protect their brand reputation and prevent any legal or regulatory issues. By ensuring that their products comply with industry standards and regulations, businesses can also demonstrate their commitment to providing safe and reliable products to their customers.
Pre-Shipment Inspection Process: What to Expect
If you're importing goods from a foreign supplier, you must ensure they strictly meet your quality standards and specifications. A pre-shipment inspection can help you do just that. It includes on-site visits, quantity verification, and function and safety testing. Here is what to expect during a pre-shipment inspection, including the steps involved and how Tetra Inspection can help you streamline the process.
When to Schedule a Pre-Shipment Inspection: A Guide for brands and importers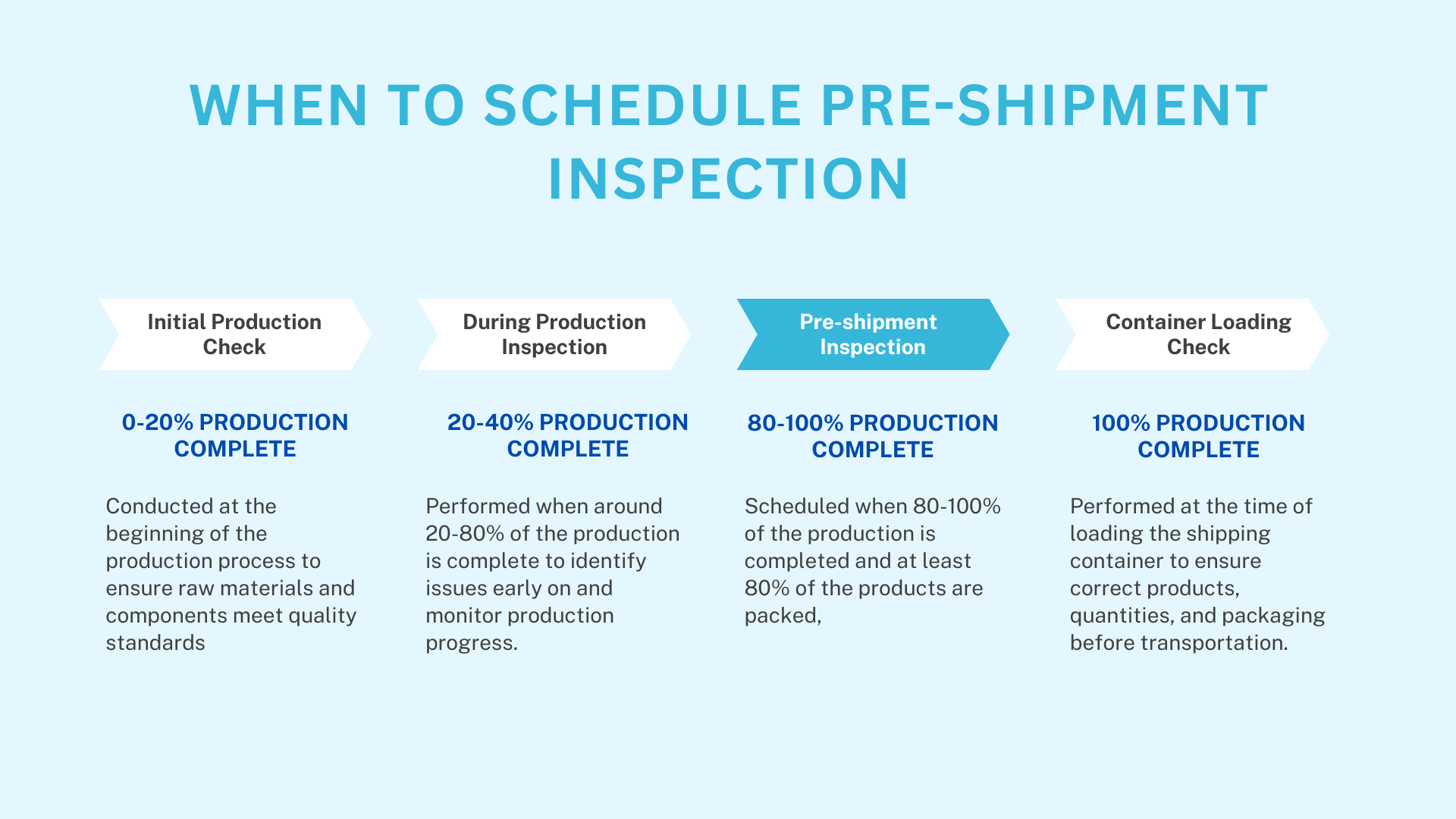 A pre-shipment inspection (PSI) should be scheduled at an optimal time to ensure product quality, compliance, and timely delivery. To determine the best time for a PSI, consider the following factors:
Production timeline:

Schedule the inspection after at least 80% of the order has been produced. This allows for a more representative sample of the goods and helps identify potential issues before shipment.

Shipping deadline:

Account for the time required to address any identified issues and re-inspect the goods, if necessary. PSI should ideally be conducted 1-2 weeks before the shipping deadline to ensure enough time for corrective actions.

Seasonal factors:

Consider potential seasonal constraints, such as holidays or peak manufacturing periods, which may impact production, inspection, and shipping schedules.

Customs and regulatory requirements:

Be aware of any regulatory compliance deadlines or specific requirements that may impact the PSI process.
What Checks are Carried Out During a Pre-Shipment Inspection? A Comprehensive Checklist
Pre-shipment inspections (PSIs) are conducted to safeguard product quality, safety, and compliance before shipping to their destination. At Tetra Inspection, we pride ourselves on our meticulous approach to PSI, offering clients the confidence that their goods meet the highest industry standards. Here is the comprehensive checklist of the checks carried out during a Pre-shipment Inspection to provide you with a clear understanding of what to expect.
Visual Inspection
Packaging Inspection: We examine the packaging materials to ensure they meet your specifications and provide adequate protection during transit.

Checking labeling: We verify that the labels on the products and packaging are accurate and comply with relevant regulations.

Inspecting product appearance: We scrutinize the products for any visual defects, such as scratches, dents, or color discrepancies.
Quantity Verification
Confirming order quantity: We count the total number of products to ensure they match your order.

Sampling plan: We follow internationally recognized sampling plans, such as ANSI/ASQ Z1.4 or ISO 2859-1, to determine the appropriate sample size for inspection.

Random selection: We select samples randomly to ensure an unbiased inspection result.
Functional Testing
Performance assessment: We test the products' functionality to ensure they operate as intended and meet your performance requirements.

Safety checks: We verify that the products comply with applicable safety standards, such as electrical safety, mechanical safety, and chemical safety.

Reliability testing: If applicable, we perform stress tests to assess the products' durability and reliability under normal and extreme conditions.
Dimensional Inspection
Measuring dimensions: We measure the products' dimensions to ensure they are consistent with your specifications.
Tolerances: As specified in your requirements, we confirm that the products' dimensions fall within the acceptable tolerance range.
Assessing workmanship: We evaluate the quality of workmanship, such as seams, stitching, and assembly, to ensure they meet your quality standards.
Documentation Review
Reviewing production records: We scrutinize production records, including raw material certificates, production logs, and test results, to ensure traceability and compliance.

Verifying shipping documents: We review the shipping documents, such as the commercial invoice, packing list, and bill of lading, to confirm their accuracy and completeness.

Ensuring regulatory compliance: We ensure that the products comply with the relevant regulations and certifications, such as CE, RoHS, and REACH.
At Tetra Inspection, our comprehensive pre-shipment inspection checklist covers every crucial product quality and compliance aspect. When you collaborate with us, you can have confidence that your products will adhere to the most stringent industry standards, minimizing potential safety hazards and safeguarding the integrity of your brand.
Why You Should Trust Tetra Inspection for Your Supplier Verification Audit Needs
Schedule Your Pre-shipment Inspection Today
Trust our expert team of highly experienced inspectors to thoroughly inspect your products before shipment, minimizing risks and ensuring compliance with international standards.
Common Questions About Pre-Shipment Inspection, Answered (FAQ)​